Peace Accord, France
Edward N. Jackson spent nearly a year on the battlefront of France taking literally hundreds of photographs of the fighting in
the trenches, putting his own life on the line on a daily basis. The quality of his work continued
to impress members of the U.S. War Department in Washington, where his photographs were sent. While Eddie received several letters of commendation for his
work, there was a concern that he was taking too much of a risk. Eddie Jackson was given a battlefield promotion to Captain and given a special assignment; he was to be made President Wilson's European photographer.
When the war finally ended with the surrender of Germany, President Wilson, by then on quite
"The Big Four"
WWI Peace Conference in Paris, May 27, 1919 (left to right) Prime Minister David Lloyd George, Great Britain, Premier Vittorio Orlando, Italy, French Premier Georges Clemenceau, and President Woodrow Wilson.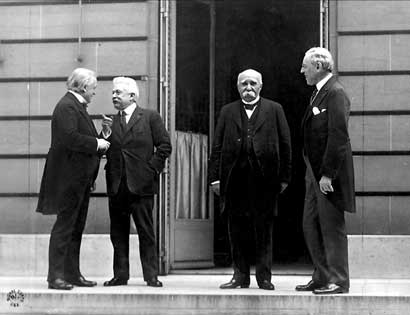 friendly terms with Captain Jackson, listened while Jackson suggested photographing the armistice, and more importantly, a gathering of the world's political leaders together, at one time. "They are a hard bunch to corral" Wilson quipped, "but I'll see what I can do." Knowing that it would be nearly impossible to photograph these men inside (where cameras were not allowed (except by President Wilson's own photographer) —and the need for flash power, a lot of flash powder, Eddie suggested that during a break in the armistice negotiations, President Wilson should bring the world leaders outside, on the balcony. Wilson didn't comment, he reportedly just smiled, shook his head and walked inside to preside at the meeting.

Captain Edward N. Jackson was able to get the photo he wanted, shown above. The resulting photo "The Big Four" appeared in every newspaper in the U.S. and abroad and can be found in many history books dealing with the era. This photograph became one
of the most recognizable, related to World War One images.
Paris Peace Conference, 1919 ~ Photo by Edward N. Jackson.
The Paris Peace Conference gathered 25 nations to shape the result of World War One. Russia was not invited to attend, nor was Germany and its former allies until after the details of all the treaties had been elaborated and agreed upon. The "Big Four" - Georges Clemenceau, Prime Minister of France, David Lloyd George, Prime Minister of the United Kingdom, Woodrow Wilson, President of the United States, and Vittorio Orlando, Prime Minister of Italy - were the dominant diplomatic figures at the conference.
France had suffered very heavy casualties during the war, with some 1.4 million military personnel and 400,000 civilians killed. Much of the war had been fought on French soil. French Prime Minister Georges Clemenceau wanted revenge for the loss of life and economic destruction. Clemenceau wanted to impose policies designed to cripple Germany - politically, economically and militarily. France wanted to impose punitive reparations and demanded that the German military be permanently weakened so as to never be able to invade France again. Clemenceau also wanted to symbolically destroy the old militaristic Germany and hang the Kaiser.
Clemenceau also desired to protect secret treaties and impose permanent naval blockades around Germany so that France could control trade imported and exported from the defeated nation.
Clemenceau was the most radical member of the "Big Four" and recieved the nickname "Le Tigre" (The Tiger) for this reason. The United States, however, wanted the creation of a permanent peace as quickly as possible. The result of the Paris Peace Conference was a compromise that left no one satisfied. Germany was neither crushed nor conciliated.