Rockwell Field, California
Rockwell Field is located on North Island, near Camp Kearny and San Diego. Originally
called the Signal Corps Aviation School, in reality it was the first U.S. Army school to provide
flight training for military pilots. Officially established as a flying school in 1912 by aviation pioneer Glen H. Curtiss who then contracted with both the army and navy to send students to his new school for flight training. The Army Signal Corps moved from College Park, Maryland to North Island and rented both airplanes and hangers from Curtiss. In 1917 the Signal Corps
Aviation Department changed the name of the school to Rockwell Field in honor of Lewis C.
Rockwell, who was killed in an air crash at the College Park facility few years earlier.
During World War I Rockwell Field provided flight training for many U.S. Pilots and crews
destined for the battlegrounds in France. It was also the source of trained pilots for the 6th and
7th Aero Squadrons that were to be located in Hawaii and the recently completed Panama Canal Zone; a strategic holding of the United States. In June of 1923 Rockwell Field successfully conducted the first air -to -air aircraft fueling procedure. Now known as the Naval Air Station, North Island, Rockwell Field was delegated to the Navy—principally because of extensive naval operations in the San Diego area, in 1935.
The following photographs taken by Lieutenant Edward N. Jackson of Rockwell Field, have never been published and are of historic importance to the Army, Navy and Marines. When Eddie finished his assignment photographing Rockwell Field he was then ordered to France to photograph the war and was promoted to the rank of Captain.

The Curtiss JN-4 "Jenny' was the
'Model T' of aviation and was used both as a trainer and a limited fighter during World War I.
Circling the tip of North Island ~ 1918.
Rockwell Field on North Island near San Diego in 1918.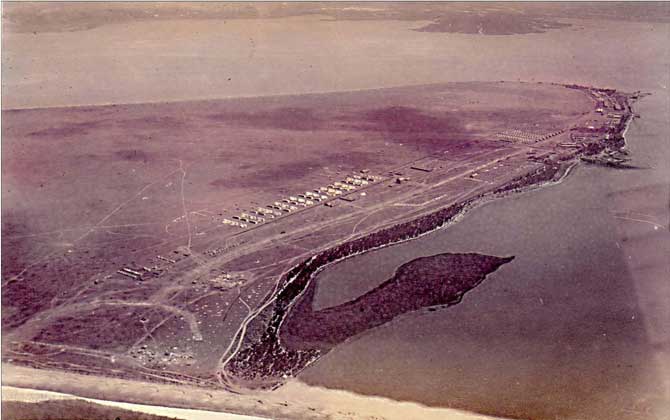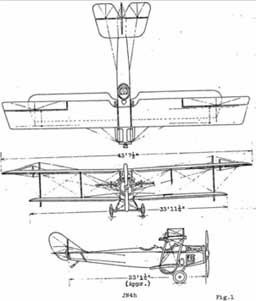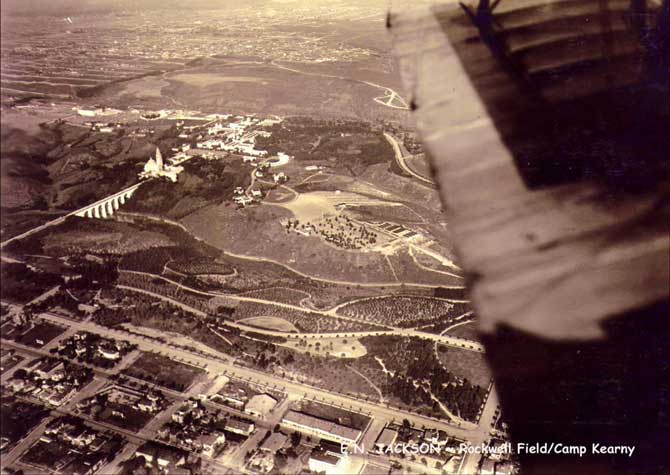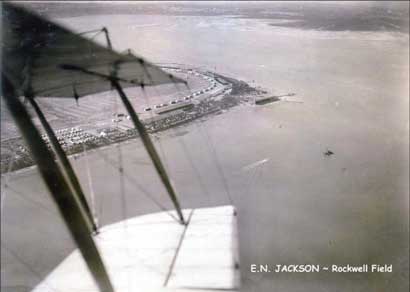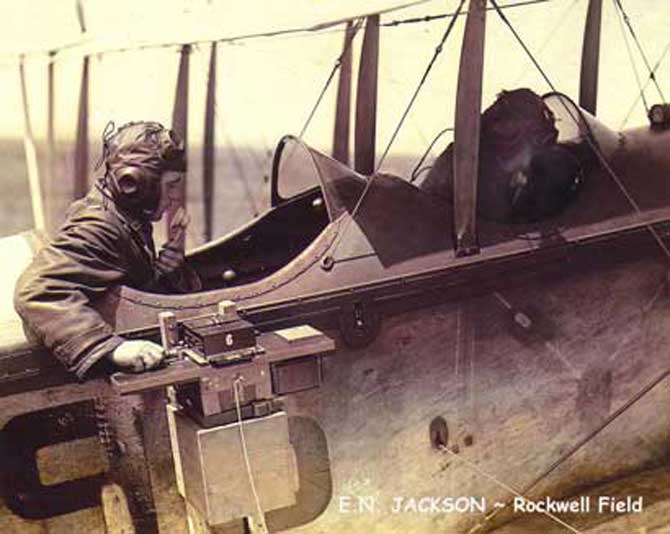 Signal Corps cameramen were taught to use aerial photography at Rockwell Field for use in the war.
A 1918 photograph of what is now known as Balboa Park, San Diego.